Only real Testimonials and Reviews of Elev8 & Acceler8 customers from the US, Canada, NZ, UK and other World.
Before & After B-Epic's Elev8 / Acceler8 pills (#2)
Before & After B-Epic's Elev8 / Acceler8 pills (#1)
---
---
B-Epic Elev8/Acceler8 Reviews (Vol. 1)
---
"I feel happier"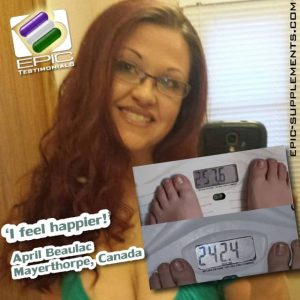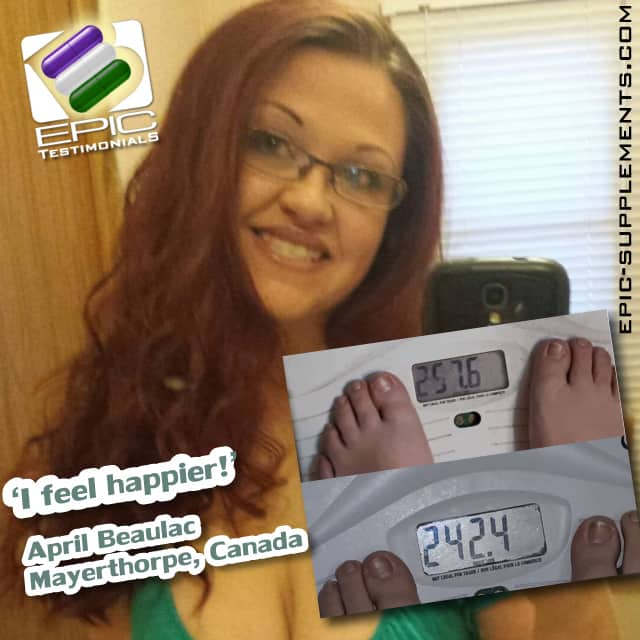 April Beaulac from Canada says:
"So Day 36 on my products and I'm down 15.2 pounds. But these products aren't just for weight loss… With these products, I have had the following results:
anxiety

gone, depression lifted
sense of calmness all day. I feel happier. No mood swings in the past 14 days
increase in

energy

lowered my blood

pressure

lessened my daily

aches

and pains I usually wake up with

sleeping

mostly through the night. Waking once to pee

I feel overwhelmingly grateful

less frequent migraines
short temper and

irritability

gone
PMS symptoms lessened
no more brain fog & better

focus

lessened symptoms of ADHD and

Fibromyalgia
My son is on Gr8Kids and is noticeably less short tempered, more focused and less irritable. His autism symptoms have lessened as well. ADHD is more manageable.
If you are on the fence, these products are the real deal. You have nothing to lose! There is a 30 day money back guarantee….but I'm sure you wont be returning them."
"I see a girl who is truly happy with herself"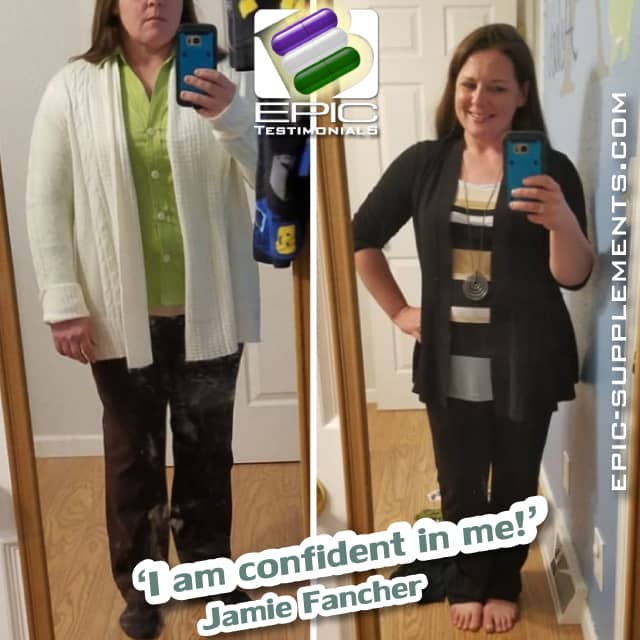 Jamie Fancher's review:
I hated having my picture taken. I was getting ready for a job interview on February 19th in the picture on the left. I vividly remember crying and being disgusted with the way I looked and the way my clothes felt I asked friends for help on choosing which outfit I should wear hence the picture.
I started these products on March 7th. Fast forward to the photo on the left it was taken May 20th. I am down a total of 21 pounds and so many inches. It's so much more than the weight it's a mind set.
The girl on the left she hated getting dressed sweats/yoga pants tshirts and oversized hoodies was her go to. She was sometimes angry and depressed. She was anxious and stressed. Not anymore!
The photo on the right I see a girl who is truly happy with herself.
I wake up every day and notice something else that these products have helped me with from getting over a hangover to my hair growing and my nails being stronger. Not eating crap all the time or even wanting to eat all the time. I sleep so much better than I ever have my entire life. I wake up refreshed and ready to get things done every morning. I am confident in me and loving every day!
I can see my the changes in the neck, face hands, stomach bulge the bloating. II see a new and better version of the same person.
---
"These products fill our cells with health!"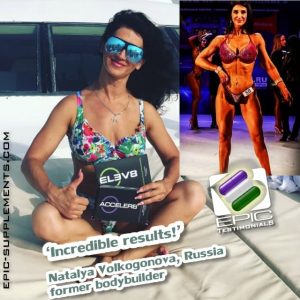 Natalya Volkogonova, former bodybuilder from Russia says:
"I am very happy that this cellular nutrition appeared in my life. Thanks to it, I finally live in full force and feel like I have never felt before.
These products fill our cells with health. I recommend them to everyone!
Incredible results!"
---
How mom saved her son's life
Review of Billy's mother Alannah:
Meet my son Billy! 36 years YOUNG.
The pictures on the right were in December when he was admitted to the hospital because he literally could't breathe! In addition, he kept falling in the middle of the night as he couldn't stay awake from exhaustion! He even fell asleep at the wheel (no one was hurt).
His carbon dioxide levels were at 63% and if you're in the medical field you know that is dangerously high. His oxygen level was coming in 50% when he was sleeping and around 75% when he was awake.
Two days later they released him from the hospital and that night he got up in the middle of the night and fall from exhaustion because he couldn't sleep, he ended up back in the hospital with nine staples in his head after hitting a wall.
I knew then, something had to be done. I was a desperate mama and I was not going to stop until he was better! I vowed to myself I was going to get my son healthy no matter what it took!
The doctors told him that if he did not do something about his weight he wasn't going to be around much longer. I kept searching high and low with so many different diets. We even considered weight loss surgery.
I went on a mission and I searched daily! It was till my friend reached out to me and share this amazing product. I couldn't believe it! It all sounded too good to be true.
The pic on the left is my son today.
As I type this and tears stream down my face I'm so happy to say!
He lost 3 pounds overnight. He slept almost 8 hours, he feels more alert , focused and he has been on the system for only a week now and he is down 18 pounds. YES! 18 lbs.
He had to go down a belt loop AND a pant size and for the first time in months he was cleaning his grill outside today because he could breathe with an abundance of energy!
His oxygen is at 95 %
Thank you for saving his life! We are forever grateful!!!
---
"I feel like my mind is clear!"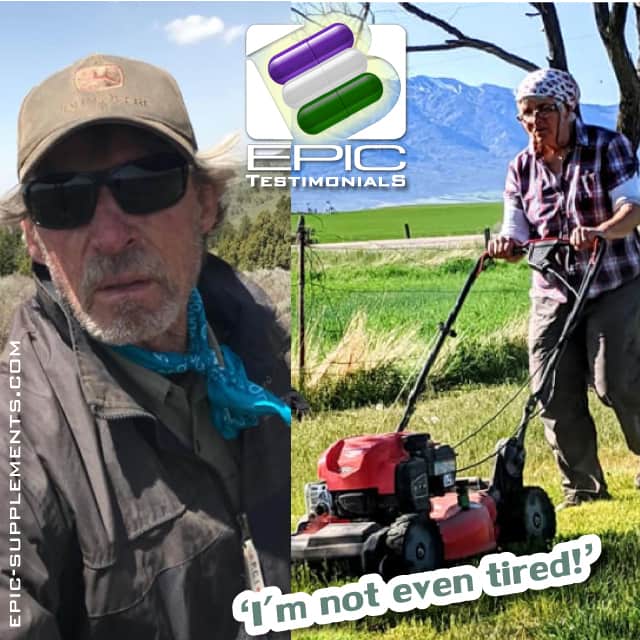 Jessica Schmidt from Idaho says:
My Dad is 79 and Mom is 69. Neither of them act their age at all! Dad just started a fencing job in Idaho on a 27,000 acre ranch, one night after work he said to me "I'm so Glad you got me on this epic stuff, after working all day riding the four-wheeler and fixing fence. I'm not even tired! The sinus pressure that I had in my head is gone and I have been sleeping much better I have mental clarity and it feels good."
My Mom who drink a pot of coffee just to stay going during the day hasn't touched coffee in 2 weeks! She said "I don't need coffee anymore and I have so much energy that I just want to get out and do things, The inflammation in my legs is gone along with the discoloring, I feel like my mind is clear and I sleep so much better!"
---
"It's definitely worth giving them a try!"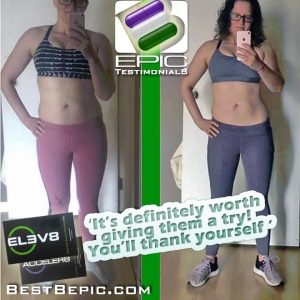 "Here are some things I've noticed in 30 days -- crazy good energy (so yes I have more energy to exercise everyday and bringing my cardio back, I do workout 5 times per week for 30-40 min), amazing sleeps -- I'm waking up in the morning and feeling amazing and rested, even on the nights my kids wake me up through the night. I'm eating well, I find I'm not craving junk and sugar like I was a couple months ago just overall feeling positive and good.
2019 was stressful and was constantly feeling stressed, elevated, and unhappy. I feel like I'm back to my old self and am running through my days feeling happy and good!
Elev8 & Acceler8 definitely worth giving them a try! You'll thank yourself."
---
"I feel fantastic!"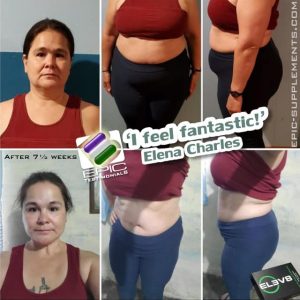 With the 3 pills I feel fantastic! Thanks to the #3PillMagic physically I feel younger and my self-confidence is back.
My #EpicJourney has been fast and furious, but very sweet. No more burying myself in bigger clothes and pretending it doesn't matter I'm overweight. I have the bounce back in my step and I can walk further, faster and without getting winded.
My mind can actually shut down and I'm sleeping faster, deeper and I wake up rested. I'm not a doctor and I'm not claiming anything more than expressing my #EpicExperience.
I have epilepsy and I don't have the best memory, but I feel my mind has more clarity. I'm in love with my new #GreenPillMagic
---
"I have so much natural energy!"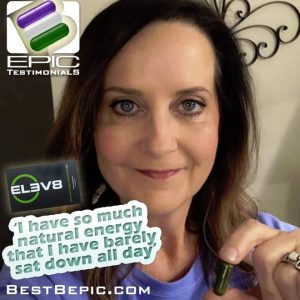 I'm 60, right? Kinda getting on up there in years….SO imagine how unbelievably TIRED I should have been today after flying home from Utah and not getting HOME until 3 am this morning. Bed at 3:30 am, up at 9 am.
Ordinarily my sweet self would have been on the couch ALL DAY LONG, but not today! I got up, fixed breakfast, took a shower, cleaned the potty, cleaned the shower, made the bed, unpacked and put away all my things, did hair and makeup and will be fixing dinner soon. So WHY did this happen??
My little green AMAZING capsule I took after breakfast this morning. I have so much natural energy that I have barely sat down all day. If this can work for this old chick who got to bed WAAAY late, imagine what it can do for you! Oh, did I mention it suppresses your appetite too!
---
Elev8 for mental heath (testimonial)
"This little capsule had me crying tears of joy all morning… I didn't realize how badly I was struggling mentally… I wasn't doing the "everyday" things anymore.
I sat on the couch all day, everyday.
I wasn't playing with my son.
I wasn't doing laundry.
I wasn't cooking dinner.
But most importantly, I wasn't taking care of ME.
This morning I cleaned the house.
I cooked breakfast & lunch.
I got laundry done.
But my highlight of the day… I took a shower, did my hair & my makeup.
I feel WHOLE again!"
---
Customer opinion: "Оrder Elev8 ASAP!"
"Down 5 pounds in the last 12 days.
I've tried everything and never found anything as amazing as this! Sometimes your body just doesn't want to budge no matter how much workout or watch what you eat.
I worked out for 4 months straight and watched the scale drop 2 pounds. Woo Hoo! Lol!!!! But this stuff is legit EPIC!
If you haven't started yet, order ASAP!"
---
Psoriasis Result: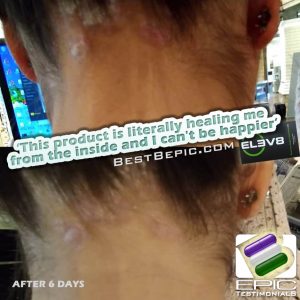 "I wasn't going to put this here because its super embarrassing for me and I HATE it. But Im shocked at what's happening here and I hope it will help others, maybe you know someone that you can share this with?? Ive struggled with scalp psoriasis since I was a kid, its a super pain in the ass, itchy, inflamed all the time and sometimes cracks and bleeds. No clue why I was chosen for this lovely autoimmune condition along with my digestive issues but NOT fun and anyone who has it knows what I'm talking about.
Now after taking these new supplements …in less than a week… day 6 actually I took a picture because It seemed less itchy, less irritated… and just less everything. And you can see the red inflammation is improving and it looks generally better. This product is literally healing me from the inside and I can't be happier or explain how BIG of a deal this is to me… on top of all the other things it's been helping me with. The ingredients are SO good for the body you really have to see for yourself."
---
"My skin is now completely cleansed"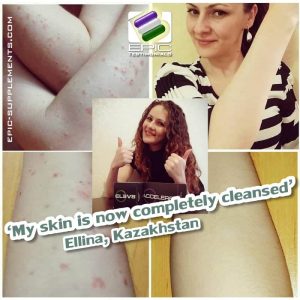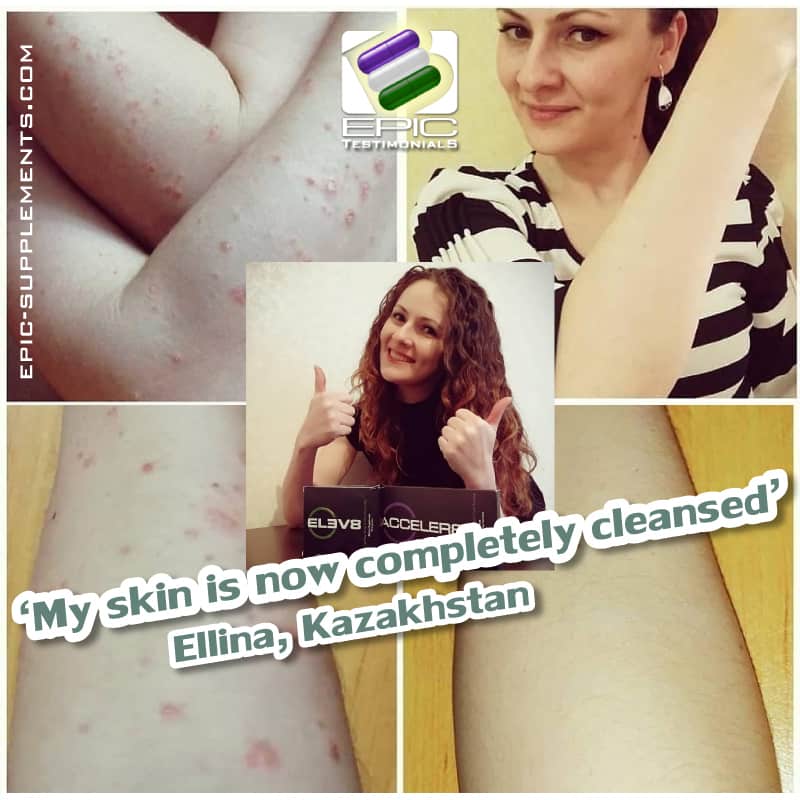 Ellina review: "I am 33 years old. For over 16 years I have been suffering from psoriasis. Until now, the reasons for its appearance are not exactly known. And since the reasons are not clear, a cure for psoriasis has not yet been found.
I have tried many treatment regimens with various drugs, as well as strict diets. But all was inconclusive! The only salvation was a hormonal ointment, which gave a quick but short-term effect. There was a feeling of discomfort about my look, a sense of shame, severe itching.
Luckily, a solution was found when I met bEpic products. After 5 months of using the capsules ELEV8 and ACCELER8, MY SKIN IS TOTALLY CLEANED!
I just can't get used to such smooth and clean skin"
---
"Every day is getting better!"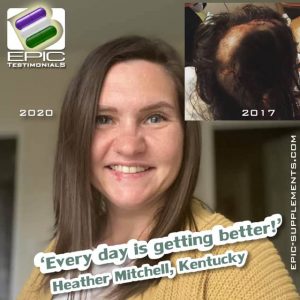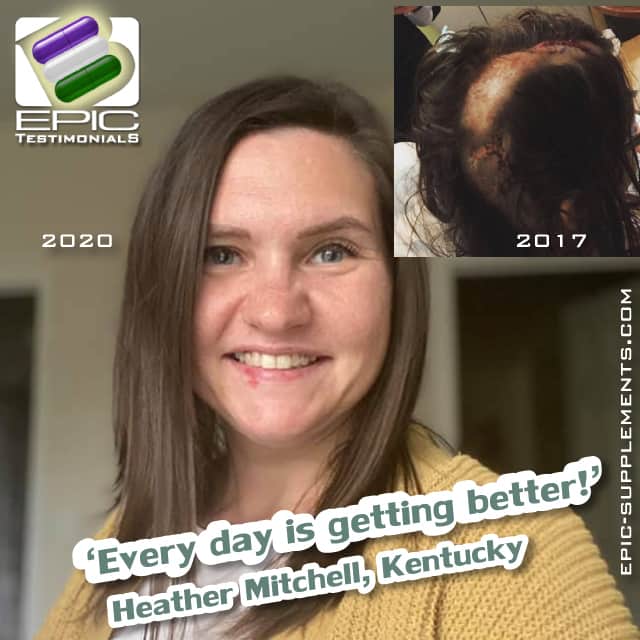 Review of Heather Mitchell from Kentucky, USA
My story is unlike most, At 28 I had a massive stroke.
I've had 16 brain surgeries as a result.
There were many occasions that my neurosurgeons prepared my family for my death because the swelling and fluid inside of my brain was so elevated.
I had two shunts that assisted with draining fluid off of my brain.
I developed meningitis and had both shunts taken out while the devices were out the neurosurgeons determined that my brain had returned to completely normal pressures. Which is totally unheard of. That 3 years ago.
However, As you can imagine an experience like that has contributed to anxiety and depression. Then, this past year I found myself in a new personal hell.
I wasn't sleeping. I was severely anxious, like never before. I couldn't eat.
My dear friend introduced me to these products. My first night I actually slept. The following day I had NO ANXIETY. I was calm.
Every day is getting better!
---
"This has saved ME!!"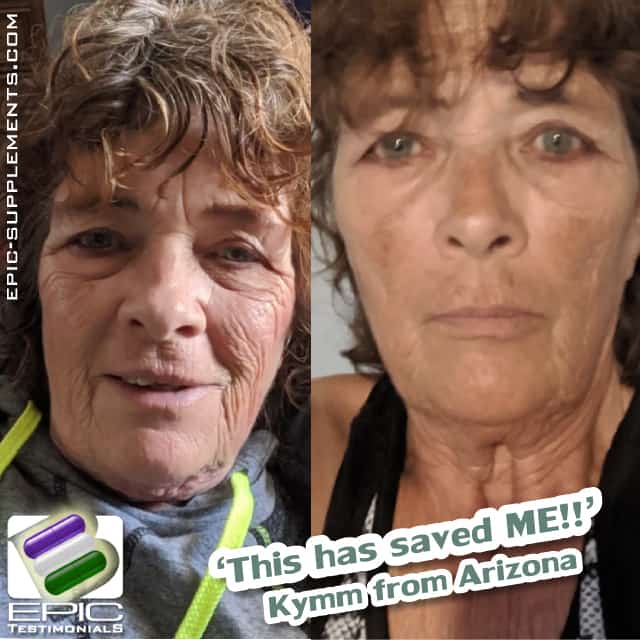 Testimony of Kymm from Arizona, USA
"I'm in tears at the way my body is changing from the inside out!!!
I have laid in bed since 1999 with a back injury. I had 3 back surgeries in 8 months, two 6 days a part.
My bones hurt since I was young and my parents were told it was growing pains.
At 53 years old, almost 10 years ago they found my bones were too small, they didn't form in places and they were brittle. When I did get up and go, it was like an animal that had been caged and then set free to roam and play. I would pay by heading back to bed.
Fast forward and here I am…pain free except my muscles that are getting worked. Bone pain and neuropathy from head to toe…GONE!! No more shocks to my eyes, face or anywhere..GONE!!
No cigarettes, no caffeine except a cup of coffee because I love the taste. Only sugar is from fruit!!
I have juiced, detoxed for days and tried it all!!
This has saved ME!!
I went from not living and in constant pain to putting more miles on my legs and my car then I did in 10 years and I'M ALIVE and living!!"
---
See also:
Other B-Epic "trio" testimonials
We have negative reviews also
---
---
Reviews of our visitors
My epic journey has also begun !! It's already the sixth day and the results are cool !!
love love love these products !!
5 out of 5 stars (based on 3 reviews)